Helix & Gene Food Intolerance Test
An at-home, 132-point food intolerance and inflammation test, plus a 15-minute consultation with our team
Have you ever wondered which foods are making you sick?
Have you ever suspected that certain foods are causing you discomfort or inflammation?
What would you do with that information if you had it?
The Helix & Gene 132-Point Food Intolerance Test measures both Complement Inflammatory Markers and IgG Antibodies to foods and additives which cause delayed food sensitivity.
By utilizing the latest food sensitivity and inflammation test (in-home finger-prick blood sample test), you will be able to detect your body's inflammatory response to common foods.
Is this test right for you?
In most cases, immune complexes are cleared from the circulation and do not cause any symptoms. However, in some people, the immune complexes may lead to various adverse symptoms including: irritable bowel syndrome, joint pain, chronic headaches, migraines, fatigue, eczema, psoriasis and insomnia to name a few.
If you are experiencing any of these symptoms, and suspect that what you're eating is the cause, this is the product for you.
Our test kit will be delivered straight to your door, comes with simple instructions, and prepaid postage for return back to us. Once your results are in, our office will reach out to schedule your consultation.
Stop guessing which foods are making you sick.
Here's what a sample report looks like: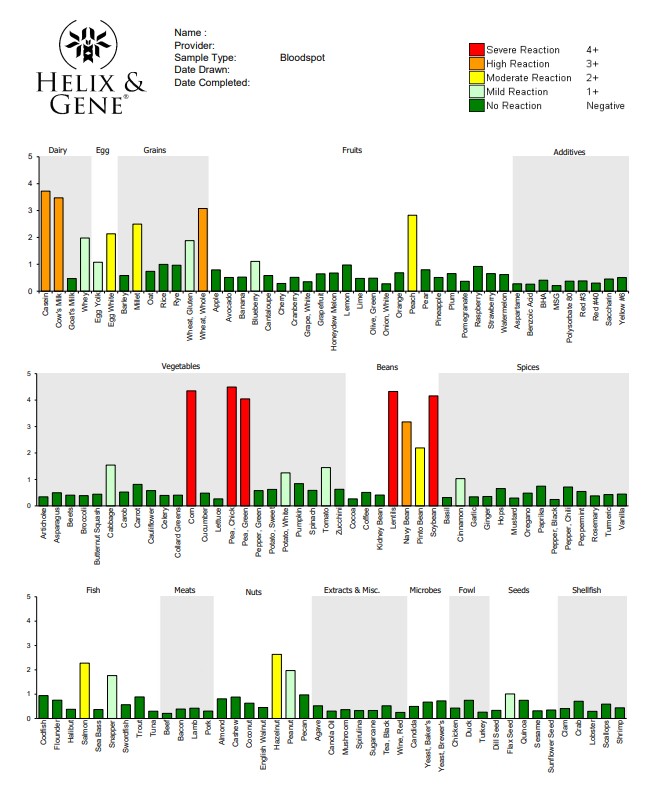 The Helix & Gene 132-Point Food Intolerance Test is an investment in your long-term health, and peace of mind.
Priced at just $699, it's worth so much more than what you'll spend treating the symptoms of inflammation over the course of your lifetime, which could easily be in the thousands of dollars.
This is a medical-grade test that can only be sold by a doctor, and our co-founder Dr. Daniel Benilevi is extremely pleased to finally be able to offer this service to you.
"Helix and Gene was an amazing program, which truly taught me discipline as well as understanding more about the foods I was putting inside my body. The  Food Intolerance Test was able to test my blood across so many different foods and I was finally able to see the different foods that were causing my constant stomach pain. This simple test had such a great impact throughout this journey. I also worked with an amazing coach Maryann who guided me every step of the way. No question went unanswered. She took the time to explain everything to such great detail and made the whole process that much more enjoyable. I highly recommend this program for real results and a healthier lifestyle!"
"The Helix & Gene weight loss program has been a true game changer for my health. As a person with chronic illnesses, inflammation was wrecking my over all health and the main culprit was my eating choices. Since beginning the program my overall health has improved dramatically. My inflammation is down, and my weight loss has contributed to feeling more energized and healthier. The Food Intolerance test helped to identify foods that I was sensitive to and contributing to my inflammation and food sensitivity. The program has shown me to use food as medicine. I highly recommend this to anyone looking to turn their health woes around."
Don't delay. The sooner you have the knowledge our Food Intolerance Test provides, the sooner you can begin truly healing.