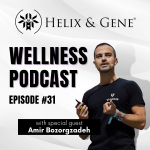 In this episode we interview Amir Bozorgzadeh, founder of Virtuleap, whose mission is to enhance cognitive performance.
WE DISCUSS:
Here are a few of the key points we discuss …
Amir's roots and what led him to the world of virtual reality.
How Virtualeap works to classify and enhance your cognitive skills.
The dangers and ethical battles that VR presents.
And much more.
Here's one great quote from this episode:
"[VR] is like a blue ocean." – Amir Bozorgzadeh
The world of Virtual Reality is like a big, blue ocean. It's uncharted, beautiful, and scary.
VR has practically infinite applications, from memory loss to athletic performance, and much more.
Amir puts this vast ocean of possibility into perspective for us, and shares some of the specific ways and sectors that Virtuleap is working in.
This interview opened up so many questions that we'll have to have Amir back in the future to ask some of those, and see what else Virtuleap has developed.
For today, sit back, strap on your 6DOF headset, and enjoy.
(Just kidding – no VR equipment is required!)
---
FULL SHOW NOTES, LINKS, & CREDITS:
3:00: Amir's pathway to founding Virtuleap, whose mission is to enhance cognitive performance.
6:00: Why 'understanding the self' is so important, and how Carl Jung has influenced Amir.
12:00: What are '3DOF' and '6DOF' VR headsets?
16:00: What kinds of games can you play with Virtuleap software?
18:00: How is Virtuleap working to 'democratize access to the bleeding edge of neuroscientific technology?'
24:00: To Amir, what is 'the sad thing' about the human condition … and how might VR offer some relief from that?
25:00: How often should you enter VR? For how long? Do you need a 'daily cognitive workout'?
27:00: What are the dangers of VR that we should be mindful of?
32:00: How will the fitness industry play a role in the development of VR over the next decade?
35:00: What's next for Virtuleap?
37:00: Do you know which mental domains you are strong (or weak) in?
46:00: Who can access Virtuleap products?
49:00: Are we in a battle to be the masters of our own minds, and to prevent less ethical technology from knowing ourselves better than we do?
LINKS
Virtuleap (@virtuleap) • Instagram photos and videos
Amir Bozorgzadeh – Cofounder & CEO – Virtuleap | LinkedIn
Learn more about Helix & Gene's science-based nutrition & wellness programs.
Awaken the spiritual warrior within! Practice Zen57 daily.
Musical Credits: "Limitless" by MusicbyAden & tubebackr. Creative Commons — Attribution-NoDerivs 3.0 Unported — CC BY-ND 3.0. Free Download / Stream. Music promoted by Audio Library.