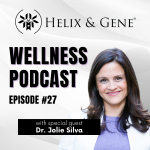 In this episode we interview Dr. Jolie Silva, clinical psychologist, mother of two, and mindfulness expert. She's been on the front lines of our inner battle for mental wellness in private practice and parenting for more than 15 years.
WE DISCUSS:
Dr Silva's perspective on how to navigate our thoughts and feelings, particularly within the relationships between parents and children, is refreshing, hopeful, and desperately needed right now.
Here are just a few of the key points we discuss …
Are we 'doing' mindfulness correctly?
What or who were some of her influences?
How can we achieve relaxation?
How can we navigate the complex emotions of our children?
What's her take on social media & parenting?
What's the difference between the mind & the brain?
… and much more.
Here's one great quote from this episode:
"You really have to put yourself in their (kids') shoes and have an understanding of whatever they're feeling is valid, even if you don't agree with it." – Dr. Jolie Silva
When you listen to Dr. Silva talk, you'll hear that hers is a fresh voice of calm & reason amidst what can sometimes feel like a storm of noise.
---
FULL SHOW NOTES, LINKS, & CREDITS:
3:00: Her training as a clinical psychologist, focused on behavioral & cognitive therapies … and her difficulty in finding professional support for her interest in mindfulness.
5:00: How during her graduate dissertation, she was only able to find about 15 studies pertinent to the idea of mindfulness-based cognitive therapy for depression & anger management … as compared to now, when almost 1,000 are published every year.
8:00 How people are looking for answers; how John Kabat-Zin's work, and the book 'Altered Traits' by Daniel Goleman & Richard J. Davidson influenced her.
9:00 Is the term 'mindfulness' often misused? Are you 'not really doing it' (even though you think you are)?
13:00 How does Dr. Silva define 'mindfulness'?
16:00 Dr. Silva discusses her experience with Zen57 and how it has impacted her mindfulness journey.
21:00 How has motherhood changed her experience with her clients?
29:00 What is the biggest factor that determines how someone parents at any given moment? How does the saying "monkey see, monkey do" apply to parenting?
34:00 How does social media exposure impact kids? How do parents prepare for that? What are the long term effects?
39:00 What is the difference between the mind and the brain?
LINKS
Amazon – Altered Traits: Science Reveals How Meditation Changes Your Mind, Brain, and Body
Jolie Silva, PhD (@drjoliesilva) • Instagram photos and videos
New York Behavioral Health (@newyorkbehavioralhealth) • Instagram photos and videos
Learn more about Helix & Gene's science-based nutrition & wellness programs.
Learn more about Helix & Gene's science-based nutrition & wellness programs.
Awaken the spiritual warrior within! Practice Zen57 daily.
Musical Credits: "Limitless" by MusicbyAden & tubebackr. Creative Commons — Attribution-NoDerivs 3.0 Unported — CC BY-ND 3.0. Free Download / Stream. Music promoted by Audio Library.