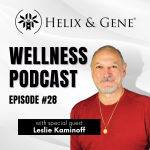 In this episode we interview Leslie Kaminoff, an internationally recognized specialist with four decades' experience in the fields of yoga and breath anatomy. Leslie is also the author of the acclaimed book Yoga Anatomy, and the founder of The Breathing Project.
WE DISCUSS:
Here are a few of the key points we discuss …
What it was like to write and sell over 1 million copies of his book, Yoga Anatomy.
Leslie's thoughts on meditation, and what some people may be missing.
The difference between a Teacher and an Educator.
The history and current state of Yoga.
His new, forthcoming, extremely in-depth, fully online community version of "The Breathing Project".
… and much more.
Here's one great quote from this episode:
"A true master is someone who's capable of creating another master." – Leslie Kaminoff
Leslie's perspective on yoga, the body, and the education of teachers & instructors is a must-listen for both yoga students and trainers alike.
This is an episode packed with wisdom, mastery, and true learning.
---
FULL SHOW NOTES, LINKS, & CREDITS:
2:00 Leslie discusses growing up with the spirit of curiosity and what brought him to write his popular book, Yoga Anatomy, which interestingly wasn't actually his idea.
7:00 Leslie describes what it was like to have his book become a huge hit, with over 1 million copies sold.
16:00 Learn about the little details that went into the making of the book that you may have overlooked, like how much effort was put into each and every drawing.
20:00 What is the distinction between a teacher and an instructor?
27:00 Leslie explains his thoughts on meditation and how some people may be missing out on the benefits. Sam and Leslie discuss how some even damage their bodies by focusing on the wrong things.
33:00 "You can't leave your body behind […] the body is not the obstacle to enlightenment that needs to be overcome […] the body is the vehicle for liberation." – Leslie Kaminoff
35:00 Leslie goes through the timeline of how yoga gained the vast cultural awareness and acceptance that it has today. He points out how the fitness industry came about much more recently than most people realize.
42:00 These days, we see more and more yoga/wellness/fitness "influencers" pop up on social media every day. How many of these yoga instructors that we see have directly or indirectly been educated by Leslie?
47:00 Leslie talks about his experience with The Yoga Alliance and how to get involved. He also discusses The Breathing Project, the nonprofit he founded in the early 2000's, and how they are currently building a unique online platform for it.
LINKS
Join Leslie Kaminoff's new online platform specifically for one-on-one yoga and movement education: The Breathing Project
Amazon – Yoga Anatomy by Leslie Kaminoff & Amy Matthews
Amazon – Strength Training Anatomy by Frederic Delavier
Leslie Kaminoff (@leslie.kaminoff) Instagram
Learn more about Helix & Gene's science-based nutrition & wellness programs.
Learn more about Helix & Gene's science-based nutrition & wellness programs.
Awaken the spiritual warrior within! Practice Zen57 daily.
Musical Credits: "Limitless" by MusicbyAden & tubebackr. Creative Commons — Attribution-NoDerivs 3.0 Unported — CC BY-ND 3.0. Free Download / Stream. Music promoted by Audio Library.