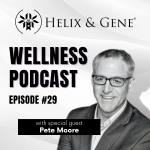 In this episode we interview Pete Moore, founder of Integrity Square, host of the HALO Talks Podcast, head of the HALO Academy, author of 'Time To Win Again', Harvard Business School graduate, and much more.
As of the date of release of this podcast, his firm has raised almost $1B total in capital into the HALO sector. 'HALO' stands for 'Health, Active, Lifestyle, & Outdoor' … an acronym that Pete created.
WE DISCUSS:
Here are a few of the key points we discuss …
How quickly (or slowly) you should grow your HALO business
What are the 3 main types of HALO investors?
What does it mean to 'win' in a HALO business?
Here's one great quote from this episode:
"When you start up a company, you are doing an experiment." – Pete Moore
In addition to being the greatest sleep-away camp counselor of all time, Pete is a charismatic, natural leader. As you'll hear (and can read about in his book), athletics has been the driving force throughout his personal and professional life.
Pete is brilliant and funny. He's seen (and lived) practically every kind of HALO business model success story, and mistake, you can imagine.
Whatever your profession or sector, you'll be sure to gain some wisdom from one of the most experienced business advisors out there.
---
FULL SHOW NOTES, LINKS, & CREDITS:
3:00: Pete's early experience playing defense in youth sports … and its metaphor for life.
8:00: Is the market ready for your product or high-tech service?
12:00: "Don't grow faster than what you have to grow!"
16:00: "When you start up a company, you are doing an experiment."
21:00: What are the 3 different kinds of investors that HALO business need to know about?
26:00: Why did Peloton rise, and then fall?
35:00: Why did Pete coin the term 'HALO' and where is it catching on?
38:00: How important is nutrition for HALO businesses, and, how big is the opportunity here?
45:00: What does it mean to 'win' in business?
LINKS
HALO Talks Podcast
Time To Win Again – HALO Academy
The HALO Advisors (@thehaloadvisors) • Instagram photos and videos
Learn more about Helix & Gene's science-based nutrition & wellness programs.
Awaken the spiritual warrior within! Practice Zen57 daily.
Musical Credits: "Limitless" by MusicbyAden & tubebackr. Creative Commons — Attribution-NoDerivs 3.0 Unported — CC BY-ND 3.0. Free Download / Stream. Music promoted by Audio Library.